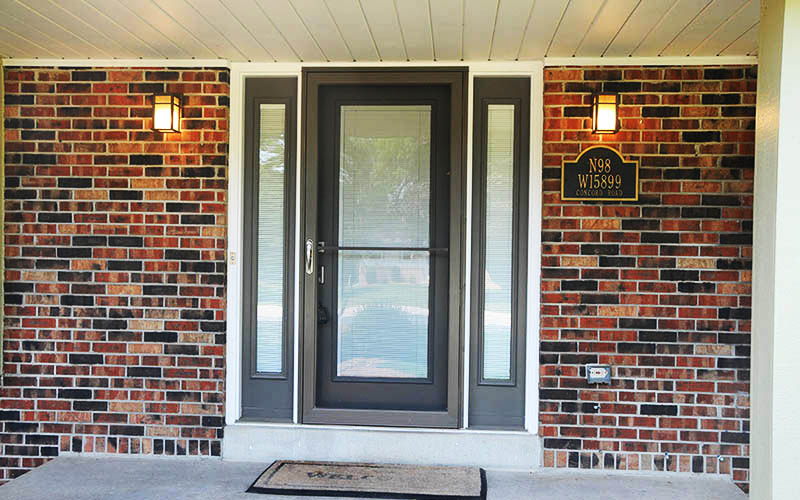 Storm doors which act as a barrier against nature's elements come with a number of benefits. One of the most important benefits is that such doors are energy efficient. Typically, such doors are made from aluminum or vinyl and are installed outside the main door.
Let's have a look at some of the benefits attached to storm doors:
Energy Efficiency
Storm doors are independent of normal household doors. As such, they do form a second door/ barrier to a home. Since they do add a second barrier between the inside and outside of a home, the amount of air leakage tends to reduce thus increasing the home's energy efficiency. With storm doors present, money spent on energy bills doesn't have to be a lot. In case you wish to have energy efficient storm doors then you should go for low-emissivity glass or glazing storm doors.
Added Security
Storm doors do add to a home's security since they do work as independent doors from regular doors. An intruder would have to pass by two doors before gaining access to your home and since most intruders prefer the easy way in then access will be limited. The strong frame that is present on storm doors are not only durable in nature but also deter intruders from the home. In addition, they do come with their own locks as well for added security. Extra security features such as break-resistant glass, bars or three-point lock systems can also be added to storm doors to further enhance security.
Added Home Value
Storm doors tend to be attractive in nature thus adding to a home's value with their beauty. With so many storm doors to choose from, finding the right fit to suit your particular tastes can help enhance your home's attractiveness. There are a wide range of colors and styles to choose from. It is also possible to get custom screen doors if you so wish.
Help increase air flow
This is especially the case for storm doors that come with screens. With the screen present, you can comfortably open the door to let in fresh air minus letting in the bugs or letting out the pets or children.
Storm Door options
Typically, storm doors come in aluminum or vinyl with each having its own advantages and disadvantages. Aluminum storm doors are very strong and durable in nature. They offer easy installation since they come in a pre-hung frame. In addition, it is possible to customize aluminum doors with a color of your choice since it is easy to paint. Last but not least, aluminum doors do also come in a number of styles with make complimenting your home a much easier task.
Vinyl storm doors on the other hand are not only virtually maintenance-free but they are easier to clean and easy to customize. They are also great insulators and the material is affordable in nature-considering the quality.
That being said, there are a number of things you may consider while selecting a storm door. You may consider the frame which comes with the door. Do you want a full-view frame, mid-view or high view? How about the screen type; do you wish it to be retractable, standard or full-view? Do you wish the glass to be a low-E high performance glass, glass with blinds built-in or a beveled glass? What kind of hardware do you want for your storm door? Do you want aged bronze, antique glass, matte black or nickel?
Depending on the location of your property, the different options available should help you choose the most appropriate storm door for your premise.
If you're looking for a contractor to provide door installations in Toronto, contact Imperial Windows and Doors today for your free consultation.