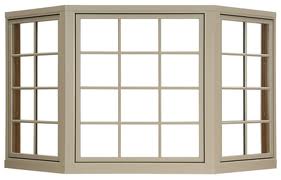 If you require absolute command of the extra space on your window, extending further into the outside more than what a Bow window can give you, then a Bay window is what you need. These type of window is well-loved by many homeowners that require additional living space. Whether these windows are placed in the living room or even by the side or the rear, the effect is simply the same – Bay windows provide an elegant way to extend living space without sacrificing functionality and overall aesthetic value of your home.
Bay windows provide splendid architecturally decorative welcome design to any room. Its versatility is endless. You only need to harness your full creative potentials to see just how Bay windows can add a new dimension to your home. And like Bow windows, Bay windows are specially made, customized to fit just the correct dimensions of your window. And with its patented glazing technology, you add energy efficiency to design and aesthetics.
Features and Benefits
The assembled Bay window comes standardized with three-quarters inch of plywood (good one side head), jambs, and seat
The standard depth of the jamb is 5 and seven-eighths of an inch although special jamb sizes can be specially fabricated upon request
Sections of Bay windows, whether in part or in whole, can be custom-fitted with operational mechanisms that allow it to be opened with absolute ease. This is often necessary to allow for better control of air circulation as well as manage thermal comfort.
Enhancing the overall design of Bay windows is made possible with our grille selection as well as other hardware accessories.
Navigation
Our Partners