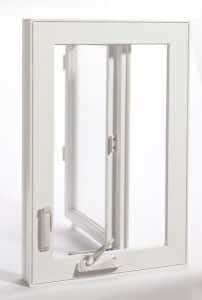 If you want a very expansive and very stylish view of the outside, you will definitely love the casement type of windows. These architectural pieces of marvel are commonly used to create a very elegant touch to living rooms and bedrooms as well as other areas of your house that require optimization of the view of the external environment. The casement window's graceful styling and aesthetically pleasing vinyl frames are excellent features of casement windows. These architectural components provide unparalleled energy efficiency, optimized operational qualities, unmatched security features, and innovative hardware structures to give you the practical and perfect choice for windows.
Features and Benefits
Window frames and sash corners are fusion welded in order to provide you unmatched strength and security. Additionally, the structure can aid in the prevention of air infiltration.
Window design takes on a multi-chambered look to insulate and prevent condensation.
Window joints are weather-strip sealed that are triple co-extruded in order to provide for additional insulation.
Window sash openings are wide (90 degrees) to allow easy cleaning from inside your house.
Overlapping internal screens are removable and easy to clean.
Window comes with a premium fold-down hardware to make operation a lot easier.
Window comes with multiple locking systems for additional security.
Glass panels can be customized with double or triple-pane Solar Solutions glazing solutions in order to provide maximum energy efficiency.
Navigation
Our Partners