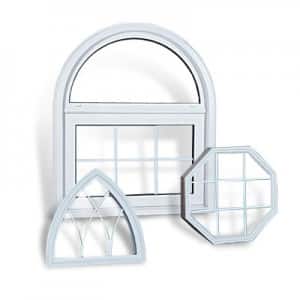 One way to have your dream home built to the very specification that you require is through customization. Some call it personalizing, but we choose to call it turning your dreams into realities. While we can always fabricate windows in standard shapes and sizes, you will benefit more with our customized Specialty windows just as countless other homeowners and home designers have.
From sophisticated curves and arches to the highly unusual yet equally elegant multi sided geometric shapes, whatever your creative demands are, you can expect our team of designers and fabricators to turn these dream windows into realities. The vast range of architectural shapes and elegant contours available at our disposal can make up for the realization of any dream that you may have. You simply have to get in touch with us, tell us what exactly you require, and we will surely accommodate your demands.
Features and Benefits
Window frames and sash corners are fusion welded in order to provide you unmatched strength and security. Additionally, the structure can aid in the prevention of air infiltration.
Window design takes on a multi-chambered look to insulate and prevent condensation.
The sash and frame are applied with co-extruded flexible seal couple with a unique interior glazing system to provide unmatched waterproofing.
Exterior sash's front-facing drainage channel is conveniently hidden so that it will not be an eyesore from the inside.
Double-strength window glass is well insulated with an ultra-dual warm edge seal to improve its overall energy efficiency.
Unlimited choice of the finest and highest quality architectural curves and shapes to provide you a wide range of unique innovative design possibilities.
Navigation
Our Partners