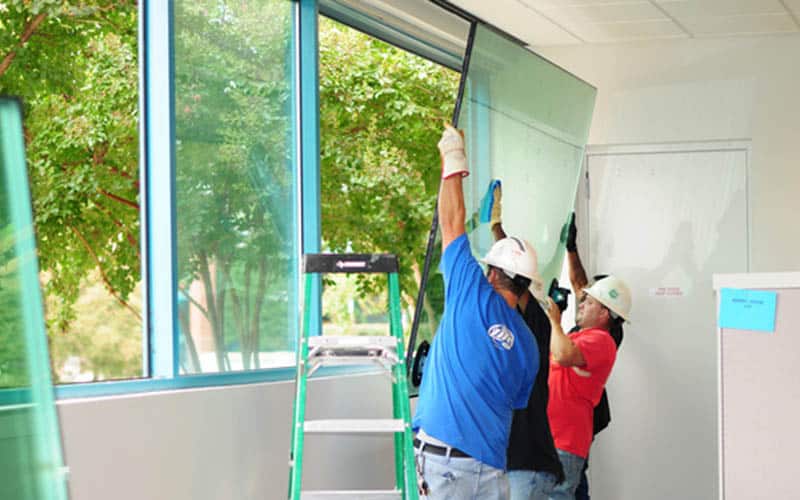 Before going out and buying new windows, you need to know if you could get away with replacing the old ones instead. You may be surprised to learn that the windows you want to throw away can actually still be functional with a few tweaks here and there.
When to repair or replace windows:
You may wish to replace your windows when faced with one of the following scenarios;
In case you have cracked or broken glass then there is no repair work needed here; you simply need to replace the window! Unless of course only the glass can be replaced then you can consider doing so.
For all wood windows; as the window ages, the sashes and stops also wear out. This leaves the window prone to gaps which gaps allow air penetration. Fortunately this problem doesn't require replacing the window; rather all you will need is a quality weather stripping solution. When the weather stripping is applied, continual pressure is applied against the window sash thanks to its flexible shape. This means that the gaps will get permanently sealed while allowing for good sash movement.
In case you have windows made of fiberglass, vinyl, or aluminum then you have to prepare for holes and small rips occurring. You don't have to replace such windows; all you have to do is repair the rips and holes by removing the sash and then applying silicone sealant to the damage. In case the problem is with the gasket then you will need to contact a specialty supplier or the window manufacturer for replacements.
You don't have to replace an aluminum window with loose sashes. Instead, you can tighten the screws at the corners to make the window as good as new. Before tightening the screws however, you might need to coat the screw threads with a dry-locking compound that is especially made for screws.
If you notice that the wood that separates the panes of the glass is rotting or splitting, then you should seriously consider replacing your windows. There may be some rot that can be repaired if it has not caused major damage but in most cases you will require a window replacement in case of rot.
In case the sashes are unable to move either due to broken or nailed cords, layers of paint or when they have come off-track. There may be times however when the unmovable sashes can actually be dealt with and made to move well. In case there is condensation between the layers of insulated glass then you need to consider replacing the window or replacing the sash.
In case the trim or exterior casing of the window is loose, rotting, missing or cracked then you might need to consider replacing your window.
When your window does have the problem of excessive water infiltration.
When yours are very old windows that are not energy efficient. Older windows tend cost more in terms of bills simply because the materials used were not energy efficient.
Ideally, you should seriously consider replacing your windows as opposed to repairing them in case you are faced with more than one scenario from the list above.
Other reasons that may prompt you to replace rather than repair your windows include:
When your windows make the entire house look shabby then you might wish to replace them. This could be as a result of rot, or peeling paint.
When your windows are no longer functional in that you find it difficult to open or close them with ease.
When you are paying high energy bills due to failed seals. When faced with the problem of failed seals, you will notice drafts and moisture coming into your home. In addition, you may also notice some fogging between the two panes of glass.
When you notice that your windows are not soundproof then you might wish to consider replacing them.
In case you wish to upgrade your home appearance then you might wish to replace your old windows with new trendy ones.
In case you go with the windows replacement route however, you should bear in mind a number of things. You should bear in mind the safety level of the windows you choose. You should also opt for energy efficient windows as well as functional ones.
If you're looking for a Toronto window replacement expert, contact Imperial Windows and Doors today for a free consultation today.