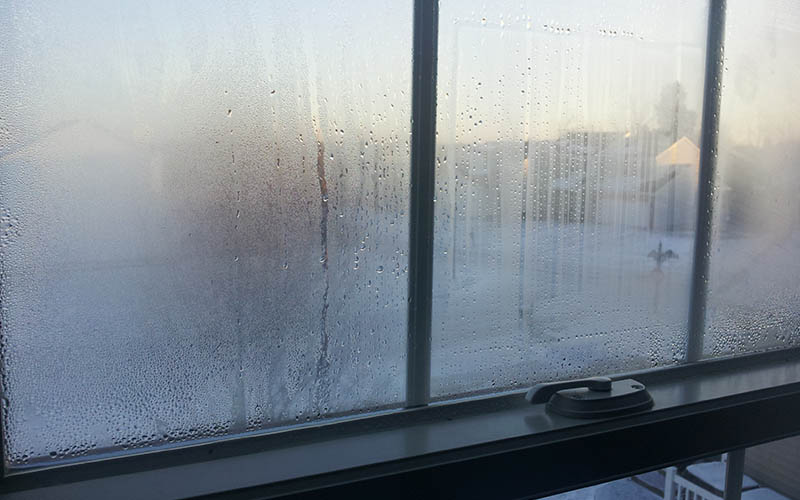 Have you ever noticed condensation on your windows especially in the cool weather? You may have wondered at the cause and if you are like most home owners you may have worried that something was wrong with the window or with the installation of the window. The good news is condensation doesn't necessarily mean that there is something wrong with your window. There are a number of causes for condensation on the window as well as solutions.
Condensation occurs as a result of high humidity levels in the home. As such, it is common during the colder months of the year. This means that neither your doors nor your windows are the cause. Since windows tend to get cold in the cold months, they tend to be targets for condensation; this is because the cold outside air meets up with the warm inside air and results in the condensation that you notice on the window. As such, humidity levels in your home combined with the exterior temperature will determine just how much condensation you notice on your windows.
Reasons for the condensation
Normal household activities such as cooking, bathing, or running the dishwasher or washing machine result in condensation-especially if your humidity level is higher than 10%.
Most home owners assume that condensation means that the windows are not properly sealed. In actual sense, condensation is a clear indicator that your home is actually properly sealed which means that there is no escape for the condensation. In case you wish to do away with condensation in your home then you need to manage the humidity levels in your home by yourself. In case you have one of the new HVAC systems then you can comfortably control the humidity levels in your home thanks to the humidity controls that such systems come with. Alternatively, you could purchase a hygrometer which will help you measure the humidity levels in your home. The major advantage of a hygrometer is that you get to pinpoint the exact location in your home that is prone to high condensation levels or where it is originating from.
Other ways to reduce or get rid of condensation are to open a few windows in the home for a few minutes in order to let the condensation escape; periodically open the heavy blinds or drapes that would otherwise worsen the condensation issues; and move plants away from the windows which plants tend to result in water evaporation travelling straight onto the glass.
Generally speaking, you should pay close attention to the ventilation and air circulation in your home. Be sure to keep rooms such as bathrooms, kitchens and the laundry-room well-ventilated.